During the industrial revolution 4.O several changes have been made in the manufacturing sector of a wide range of products. All the changes have been implemented in the mechanical engineering stream. Still, there are numerous techniques like a digital twin that are ready to be implemented on the working sites. 
Every day there is a rise in technology that makes the process more digital. The main core of the implementation is to cut down the production cost, and production time. Also to manufacture a higher number of products in a stipulated time.
The American Society of Mechanical Engineers has organized an amazing webinar on the Application of Digital Twin (DT) in Manufacturing. This webinar is going to be handled by the Leading Technical Manager, Mr. Gireesh Kulkarni working in a leading company, CGTech India Private Limited on 23rd April 2022. 
What is Digital Twin?
Apart from IoT and Artificial intelligence, the digital twin also serves a major role in visualizing and understanding the concept of the machine or the process. Digital twin enables you to view or run a machine, design a machine based on real-life calculated data, and allows you to understand how the process will work. 
This makes your project easy which identifies whether the concept is working or not and enables you to look over the other available options or pave the way to new innovative steps. 
Digital twin Manufacturing 
Digital solutions are increasing in this sector to resolve and create a solution for the manufacturing process. Inspecting the damaged machine, and inspecting an existing technology and its issues are the traditional ways of repairing a damaged machine and creating a new machine. 
It took more time in such a process. Also, the point of accuracy is lower using these steps to find a solution. Here comes the purpose of digital twin technology in the manufacturing sector. It can do the following mentioned points. 
Provides higher accuracy – so that you can run your concept process whether it can apply or not 
Helps in building better products – with the help of digital run you can create better products. 
Time-consuming – as all the work has been digital, it reduces your time in solving a problem and designing a machine for the process.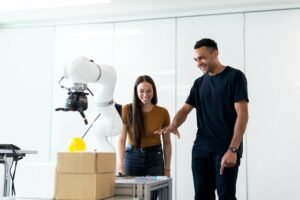 Prime theme of " Application of Digital Twin (DT) in Manufacturing" webinar 
The webinar will cover 
1. "Basic understanding of Digital Twin"
Here you come to know 
What is Digital Twin?  in a detailed manner 
How it has started? 
Complete basics and a detailed explanation of digital tin technology. 
2. "Overview of DT application in different domains"
Here you come to know 
Like IoT and Artificial Intelligence, digital twin technology can also be applied in various domains. 
A detailed explanation of these various domains and the application of digital twin in that particular domain. 
3. "Understanding the DT Paradigm of Machine Tool"
Here you come to know about 
The modeling steps of digital twin technology 
A brief explanation to understand its importance and the steps on how to use this machine tool. 
4. "Live demo of DT application in Manufacturing"
Here they will perform a live demo of the available application for digital twin technology. Through this, you can grab a clear knowledge about their application in manufacturing. 
5. "Benefits of Digital Twin"
Here you come to know 
Brief knowledge of digital twin technology 
Their advantages in implementation in the manufacturing sector. 
Without any second thought attend this webinar to learn the futuristic technology. This will create an opportunity to enhance your career in mechanical engineering in the upcoming years. 
This webinar requires pre-registration. To apply for this webinar click on the below link. 
To know more about : Digital twin technology and its amazing applications.